There are some problems you just don't think about until they occur.
Breakdown cover's advantages often don't become apparent until you are shivering on the hard shoulder at 10pm. Backing up your hard drive suddenly becomes a great idea immediately after the black screen of death appears. Sunscreen is only remembered once you've gone the colour of a perfectly boiled lobster.
Bike touring is no different. When you're out on the road, it's often the case that you think of the things you should have packed or the accessories you should have bought. Items that would have made your life easier or your trip that little bit better.

A list of such items could be just short of endless, but on our last few rides we've been using kit from California-based brand Peak Design. They specialise in carry solutions, camera gear and other travel accessories, and we're rather impressed.
Not so good vibrations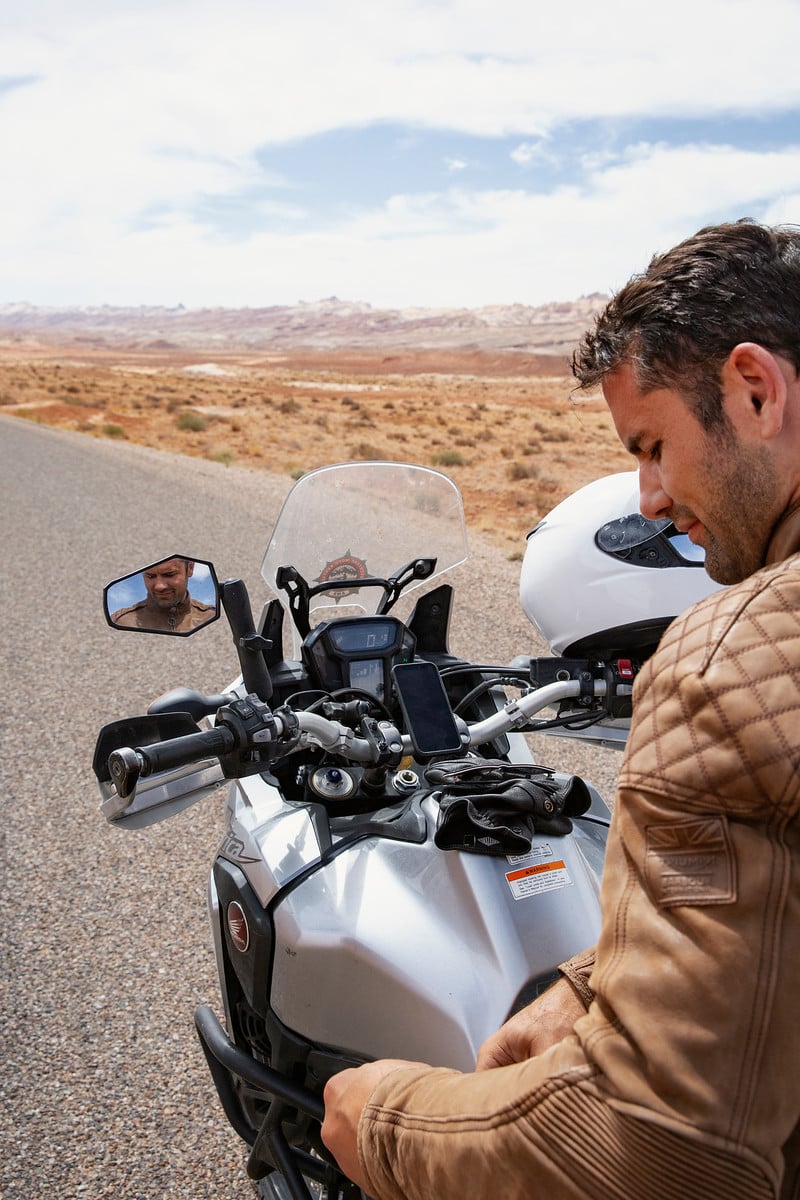 It's a problem that has rumbled many a new biker, particularly new tourers. You're riding somewhere new using Google Maps on your phone to guide you. You happen across some stunning scenery or landmark and unclip your phone form the cheap handlebar mount you bought down the shops without much thought.
But when you flick open the camera app, despite your hand being steady as a rock, the screen looks like you're trying to take a picture of jelly during an earthquake. This is because strapping a smartphone to a vibrating motorcycle for hours on end can ruin the camera's sensitive auto-stabilising technology rendering it useless and your photo a blurry mess.
That's why Peak Design have poured their efforts into solving the problem with their bar mount (£79.95) and Everyday Case (£32.95).
First there is the sleek and stylish case (with models to fit iPhone, Samsung and Google phones), which won't look out of place off your bike, unlike bulky alternatives. But it gets really clever when it snaps onto the mount.
There lie numerous rubber spacers designed to soak up the vibes rumbling through the handlebars, thereby saving your phone from a shaky end.
Serious snappers need serious gear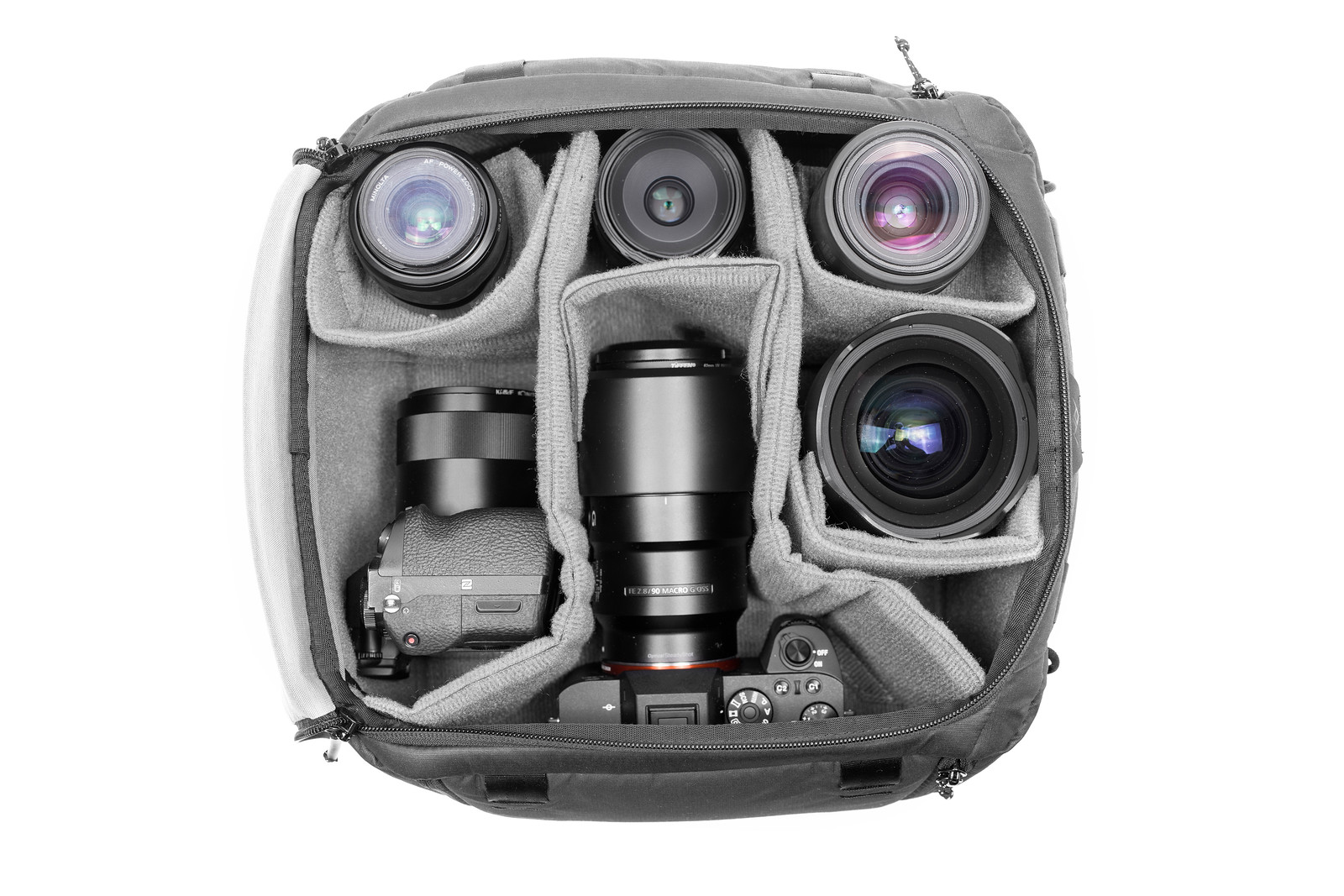 If you are big into photography, you'll be carrying something significantly bulkier and pricier than just your phone. Yes, your iPhone will do for showing off to your mates on Instagram (give us a follow, by the way) but if you, like us at ABR, take snapping seriously that just won't cut it.
Therefore, you are going to need something proper to carry your camera, lenses, leads, and memory cards. For this kind of carry-on, we've found the Peak Design Camera Cube  a great addition to our luggage.
It sits nicely inside your bike's top box and keeps your DSLR and ancillary gear organised and protected in a series of flexible compartments.
Made from a weatherproof nylon canvas shell and high-density foam the Camera Cube has kept our gear protected whenever we've used it and comes in small (£49.95), medium (£69.95), and large sizes (£89.95).
Pack it up, pack it in
Sure, you can just whack your clothes loose in your panniers or top box and then forget about them, but I wouldn't recommend it. On a long ride loose items have a tendency to move about making them hard to find and risk damaging them.
When it comes to packing, as Philip Schofield might say, it's hard to beat the Cube. In this case the Peak Design Packing Cube.
ABR's very own James Oxley had one in his top box while riding the Fosse Way for the latest issue and was particularly impressed by the dual compartments to separate clean and dirty clothes.
Even more inventively, the Cube is made from an ingenious self-healing, weatherproof material that automatically repairs small punctures and abrasions if it gets damaged. How does this wizardry work? Well, the molecules in the nylon are engineered to stick themselves back together along break line, meaning after a small snag or tear the fabric bonds back together 'healing' the breakage.
The Peak Design Packing Cube comes in small (£29.95), medium (£39.95), and shoe pouch (£24.95) options and are all easily compressible when not in use.
As an added bonus, the folks at Peak Design are so confident all their products come with a lifetime guarantee.