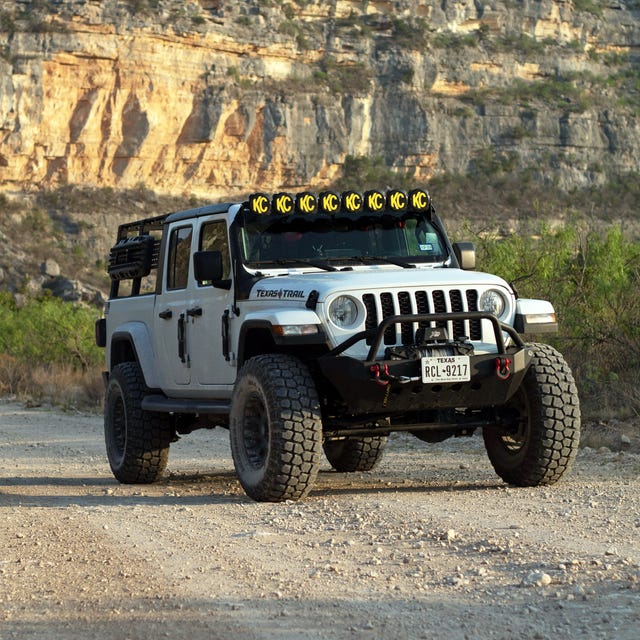 Mary Singler
Off-road and overlanding setups have steadily increased in popularity for the past 50 years. Your daily driver can turn into a vessel that takes you on adventures far beyond your hiking boots by adding just a few pieces of equipment. Among these bells and whistles are light bars that have improved the safety, performance and looks for weekend Jeepers, Baja racers and pavement princesses alike. These lights make traversing the darkest nights possible.
What to Look For
There are a whole lot of numbers on a light bar spec sheet, so what do they mean? The lumen (lm) is the most common way to measure brightness; it measures the bulb's total amount of visible light. Candela (cd) tells you how far away from an object you can be and still see it. Lux (lx) measures the amount of light on a surface per unit area. And, wattage (W) is how power is measured and should be considered with your car battery in mind, especially if you are running other accessories simultaneously.
Beam Patterns
While most off-road LED light bars come with a combination of spot and flood beam patterns, it is crucial to know how each improves your visibility. Without spot beams, for example, the deer won't be in the headlights until it's too late. It gives you visibility further down the road, allowing for more warning when the twists and turns will be coming, but you won't be able to see as much in your peripherals. Flood beams project more broadly, making more immediate threats visible. You won't be able to see as far down the stretch, but the road's sides will be clear as day.
What About the Setup?
There is no simplification when it comes to mounting and connecting your lights. It would be a lie to say there is one best way. If you have a popular off-road vehicle like a Jeep, Tacoma or Bronco, the light bar manufacturers often make mounting systems specifically designed for your vehicle. This does make things a lot easier, but don't count yourself out as aftermarket options are all over the place with different commitment levels (i.e., drilling holes in your car) and price points.
Your electrical setup will be what matches your mounting, battery and frequency of use. Some common options involve aftermarket switchboards, while others use whatever power mechanism that may come with the lights.
The Best LED Light Bars
Note: The following prices are for 50-inch light bars, one of the most common lengths. Prices will vary depending on size.
Advertisement – Continue Reading Below
Best Overall
KC Hilites Gravity Pro6 LED Light Bar
Classic look
Modularity
No whistling or vibration
KC Hilites are to off-roading as Wranglers are to cowboys; they are the go-to classics. Built with aluminum, they claim 18,400 lm, 6,700 lx, 670,000 cd and pull 160W. Functional and reliable with an old-school look that is hard to beat, and the warranty coverage gives some peace of mind. The Pro6 can be pivoted for a custom beam throw with their rigid Infinity Ring system allowing you to choose from an arced or straight configuration. With this system, you can also add or remove these linkable pods as needed. The lights have a well-distributed beam pattern and a thoughtfully engineered reflector design that makes the most of the light output.
Tested on some of the darkest trails of West Texas, I have found that they work so well that we had to reset the pitch angle to avoid a blinding reflection off the ground. I have it set up on a Jeep Gladiator with the official KC mount. Installation took a few hours; the most complex part was the electrical connection which we wired to an after-market switch panel. Having a friend assist with the setup would be ideal for adjusting the lights with precision. I have not experienced any vibration or whistling issues often found with roof-mounted lights.
Lumens: 18,400 lm
Candela: 670,000 cd
Wattage: 160W
Beam Pattern: Combination
Best Upgrade
Rigid Adapt E Series LED 50″ Lightbar
Adaptive response technology
Polycarbonate Lens
Expensive
Panel design limits customization
Rigid Industries Adapt E-Series has some wild tech and it might be worth it if you are trying to drop the big bucks. The lights have a two-fold adaptation system featuring Active Power Management (APM) and Active View Technology. APM considers how much power you have available and allocates the light appropriately so you don't drain your battery. The Active View Technology uses GPS speed tracking to determine situation-specific beam patterns. The faster you drive, the further down the trail your lights project with spotlights. The focus will go back toward your tires with floods when you are going slower in a rock crawling situation.
Lumens: 38,896 lm
Candela: 939,827 cd
Wattage: 358W
Beam Pattern: Adaptive Combination
Best Budget
Rough Country 50″ Black Series Single Row LED Light Bar
Great price point
Easy mounting with panel design
Low Profile
No floodlighting
Panel design limits customization
Rough Country Black Series Light Bar might find its way into your shopping cart if you aren't too worried about customizing your setup. The low-profile, single panel build doesn't leave any options for linking or pivoting, but it is definitely not lacking in light output. It is exclusively made up of spot beams, giving ideal visibility for distance but roadsides won't be illuminated. You will also lose out on other industry-leading designs and engineering, but this price point is hard to beat.
Lumens: 19,200 lm
Candela: Not Listed
Wattage: 240W
Beam Pattern: Spot Beams
Diode Dynamics SS5 CrossLink 8-Pod LED Light Bar
Backlighting color options
Available in a variety of power levels and beam patterns
Purchase light covers separately
Some backlight colors could seem too flashy
This bar is the only linkable pod-style LED (that made the list) that you are able to change the backlight color. While you are most likely not looking to pop off with purple or green on the trails, a quick switch to amber backlighting can be helpful when it comes to dust, fog and snow. Because of the variety of power outputs and beam patterns available at the time of purchase, you will have to have a pretty good idea of where and when you are planning on using your lights. The good news is that they offer replacement lenses if you decide to change your mind later down the road.
Lumens: 19,200 lm
Candela: 81,600 cd
Wattage: 320W
Beam Pattern: Combination
Baja Designs Universal XL Linkable LED 8 Light Bar Kit
Impressive warranty program
Modularity
Made of powder coated cast aluminum
Expensive
2 month lead time
If you think you might enter the desert racing scene, these modern-looking lights may be calling your name. Baja Design's XL Linkable LED Light Bar is housed in a rugged powder-coated aluminum, and like the KCs, it can be easily adjusted and customized. Being fully submersible, you will not have to worry about any elements affecting light clarity. With 8 linkable lights that feature a combination beam pattern, they boast 25,200 lm and pull 208W. This light output is insane, and quite honestly, you might not need it if your off-roading isn't all that serious. Baja offers an impressive lifetime warranty and has notably good customer service.
Lumens: 25,200 lm
Candella: Not listed
Wattage: 208W
Beam Pattern: Combination
Housing Material: Hard Anodized and Powder Coated Cast Aluminum
This content is created and maintained by a third party, and imported onto this page to help users provide their email addresses. You may be able to find more information about this and similar content at piano.io
Advertisement – Continue Reading Below