The Niro's duties have stepped up in the last month to include multiple airport runs and lugging plenty of things around.
I also took the opportunity to range-test the SUV. Can it actually travel the claimed 58 kilometres between charges? Also, by the end of this chapter, we'll have put yet another tank of fuel in. Will it match the nearly 1500km of range we scored in the first instalment? Read on to find out.
Read the other long-term review instalments
Is it suitable for transporting adults and lots of luggage?
Absolutely. In fact, since the new-generation Niro was revealed, Kia also announced this recently superseded version will continue on as a purpose-built taxi, dubbed the Niro Plus.
In my testing I can definitely see why. Ferrying a selection of my tallest friends to the airport, all were impressed to find the rear seat not only offered sufficient legroom, but also relative comfort with the Niro's high roof and soft trims. It also consumed four people's luggage with relative ease, despite the plug-in hybrid (PHEV) version's smaller boot compared with the regular hybrid version.
The high roof makes it easy to load awkward objects like bikes and furniture. This definitely came in handy in our last month with the car. I'm keen to see if the new-generation Niro can match it.
Ride comfort is pretty good too, even when loaded up, and one thing that impresses about the PHEV is that it doesn't feel compromised by its extra battery size. Sure, boot volume is down slightly, but there's no noticeable decrease in ride quality as a result of the 8.9kW battery which weighs 117kg.
 
How are the ergonomics and features?
The Niro's multimedia screen is pleasingly no-nonsense. I like how it syncs in with the car's glossy dash design, and is nice and close for most of the touch elements. I also like that it has practical shortcuts for everything, and a knob for volume control.
The stock navigation software is a bit average though and it's already out-of-date, missing a number of new charging locations (a surprising amount of which are now popping up all over Sydney). Also, given the charging port is at the front of the car, I wish it had a forward parking camera so I can see if I'm close enough to the kerb.
Heated seats are also a notable omission given this car's price, and the fact that they're the most energy-efficient way to heat an interior, something I'm particularly missing in winter. The EV gets them, why doesn't this model?
How does it feel to drive?
Easy. I love its visibility and relatively compliant suspension, my partner loves its light steering tune and ease when parking, but it's just a bit… boring. The acceleration is leisurely even in the fully electric driving mode, and again, it's a bit wheezy if you run the battery dead. Although the combined output of the electric motor and 1.6-litre four-cylinder engine is 104kW/265Nm for the Niro, it doesn't feel as punchy as those numbers might suggest.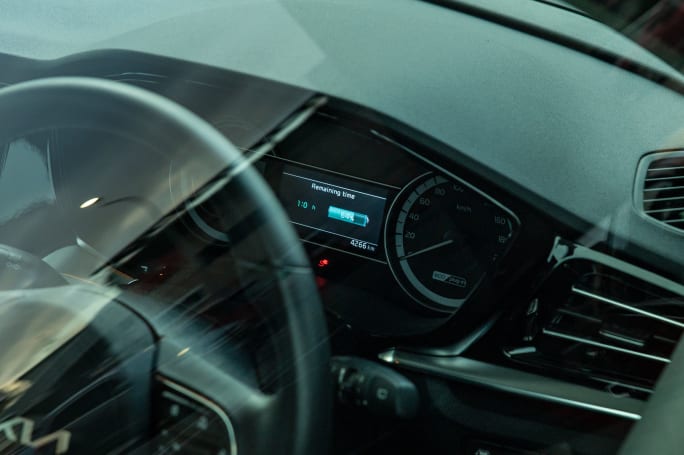 The Niro is a bit wheezy if you run the battery dead (Image: Tom White).
Handling is also good, but the lane-keep assist system can be a bit heavy-handed on multi-lane roads at higher speeds.
Having now driven the Niro back-to-back against a few other hybrids and EVs, I've noticed it has some quirks. Kia place this car's electric motor between the engine and transmission, meaning its electric drive is sent through the six-speed dual-clutch automatic. This has an odd consequence of adding a mechanical nature to its electric drive at low speeds, and it sometimes feels a bit glitchy to engage on steep terrain.
It also makes the regenerative braking system a bit harsh. I like that this car has three levels of regen, meaning you can be extra energy efficient and save yourself cash on brake pads in the process, but because the electric drive is not linear and sent through a  transmission, it's nowhere near as smooth to use as it is in some EVs or rival PHEVs. While rivals will gently roll the regen on as you let off the pedal, the Niro's system is either all drive or all regen, making it lurch from one to the other, particularly in the strongest braking mode.
As a result, I tended to use a weaker regen, as it was far more pleasant. My partner doesn't like the feel of it at all, and leaves it off completely. Weirdly, turning the regen down also limits the 'blended braking' this car uses when you hop on the brakes, making it less energy efficient than it could be whenever you slow down with the regen turned off.
Can it actually achieve its claimed EV range?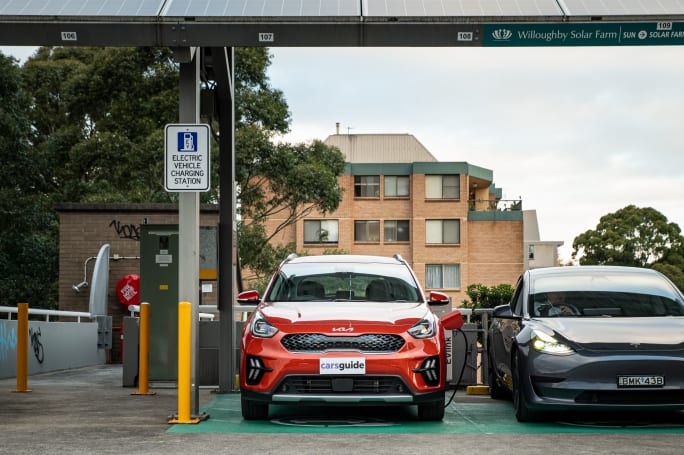 I managed to travel 62 kilometres on a single battery charge to the base level (Image: Tom White).
In the last two months I decided to test out the 58km fully electric range. This number is reported by the car's computer at a 100 per cent charge, but it is calculated on a lenient NEDC testing cycle, which is usually quite difficult to replicate in the real world.
I set the battery to full and took a record of my odometer, then drove it exclusively in electric mode until I ran the battery down to its base hybrid charge level. To make the most of it, I tended to have the regen mode set to maximum.
To my surprise, I managed to travel 62 kilometres on a single battery charge to the base level! Impressive. My theory as to how I managed to exceed the NEDC number is that it does not account for the regen to be set to max for the whole time. Also, you can't run the air con. Doing so will turn the combustion engine on, even if you're driving under electric power alone.
How was it driven overall?
Aside from the few days running my EV range test, I did become a little frustrated at constantly running out of charge in this PHEV. It's not that charging constantly is such a problem, nor is the to-and-from work drives, it's more that weekend trips or even longer journeys before or after work will exceed the battery's range and force you to drive in hybrid mode. Because I can't charge at home, I have to wait for an excuse to go to the shops to get my free solar charging session in.
The whole situation feels less than ideal for us, and our car spent a lot of time these last two months in this particular situation.
It makes you nervous about running out of energy, but then looking at the average fuel consumption shows my charging efforts are far from in vain.
While I felt like I spent a lot of time driving under combustion power, the fuel consumption number had only jumped from a record low 2.1L/100km to a still very impressive 3.2L/100km for the months of May and June.
How far did I get on that last tank of fuel?
See the full stats below for how far I've travelled in the last two months, but filling up as June drew to a close had the Niro travel 1237km between tanks. Not as good as the first two months, but still pretty damn impressive.
Stay tuned next month for a few final notes on the Niro, what to expect from the new one (check out Andrew Chesterton's launch review here) and our verdict on if you should choose a PHEV, while you still can.
Acquired: February 2022
Distance travelled in May/June: 1237km
Odometer: 4814km
Average fuel consumption for May/June: 3.2L/100