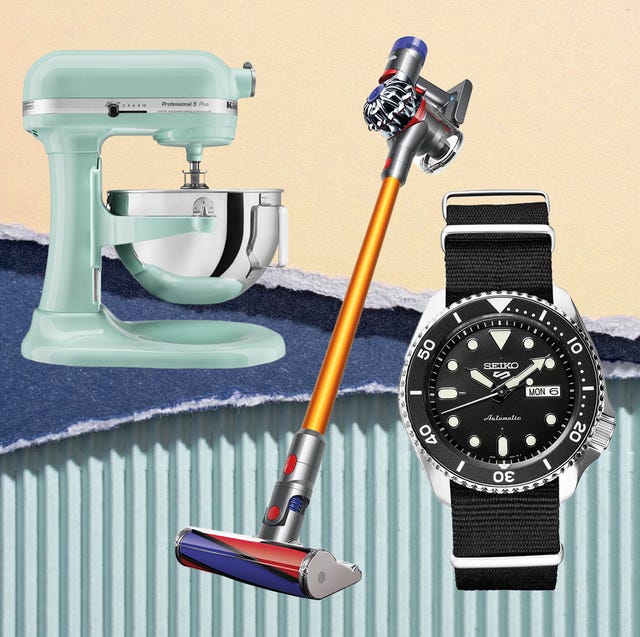 Courtesy
Looking for more Prime Day deals? Head over to our Best Prime Day Deals page to see all the top savings of Amazon Prime Day 2022.
---
Prime Day is almost here, and that spells great news for all Prime members looking to save big. But what if you're not a Prime member, you don't like shopping on Amazon or the retail giant just doesn't have a discount on anything you want? Well, you're not out of luck — not by a long shot. By now, a ton of retailers have caught on and some of the best are offering sales that rival even the best deals on Amazon Prime.
But tracking down the best of the deals out there just isn't quite as simple as opening up a browser and hoping for the best. The internet is a vast, daunting place. But we're not going to leave you to your own devices. Instead, we've done the digging already and wrangled together some of the best sitewide sales and a bunch of individual deals worth your time (and your hard-earned money). Find them all below, and happy shopping!
Best Prime Day Alternative Sitewide Sales
Aerogarden: Use code JULYSAVINGS for big savings on a ton of different gardens.
Adidas: Save an extra 30% off select full-price items w/ code SCOREBIG. Expires 7/14
All-Clad: Up to 80% off cookware during the Factory Seconds Sale. Expires 7/13
Backcountry: Save up to 70% on a ton of outdoor, hiking, camping gear and more. Expires 7/13
Bespoke Post: Save up to 60% on a huge variety of offerings.
BBQ Guys: Major savings on grills.
Brooklinen: Save 15% sitewide on bedding, mattresses, furniture and more.
Buffy: Save 15% on some of the best bedding you can buy.
Caraway: Save 10% sitewide on kitchenware with code CLEAN10.
Das Keyboard: Save $20 on a variety of top-notch keyboards.
Drop: A bunch of savings. ona wide variety of tech.
Dyson: Save up to $150 on vacuums, air purifiers and more. Expires 7/16
Filson: Save up to 40% on select apparel and more.
Fully: 15% off all office chairs, select desks and more. Expires 7/19
Greats: A bunch of footwear styles for as little as $50.
Helix Sleep: Save up to $350 on a mattress purchase.
Home Depot: Savings on appliances, lawn & garden, tools and more.
Huckberry: Rare savings on 10 of the best items at Huckberry all 30% off plus more great deals. Expires 7/14
Indochino: Save $100 on suits w/ code PRIMETIME. Expires 7/13
J.Crew: Save up to. anextra 70% off sale items with code BIGGERSALE. Expires 7/13
Lowe's: Save up to an extra $750 on select major appliances. Expires 7/13
Lululemon: Massive savings on a ton of athletic and leisurewear.
Macy's: Hundreds of items across dozens of categories are discounted during the Black Friday in July Sale.
Madewell: Up to 60% off w/ code CLASSIFIED.
Made In: Up to 30% off cookware summer sale. Expires 7/17
Moment: Save up to 75% on a ton of great tech. Expires 7/14
Nomad: 30% off all tech accessories sitewide. Expires 7/15
Nordstrom: The Anniversary Sale is currently open to all card members. The sale officially opens to the public on July 15.
Our Place: Save 20% sitewide, including the internet's favorite pan.
Outerknown: Save up to 60% off one of our favorite apparel brands.
Rad Power Bikes: some of the best e-bikes with hundreds of dollars in savings.
Ray-Ban: Savings on select sunglasses and other eyewear.
REI: REI members can save an extra 30% at the REI Outlet w/ code SAVE30JUL22. Expires 7/13
Revzilla: If you want to save on some motorcycle gear, here's where you should start.
Saatva: Save up to $400 on mattresses.
Samsonite: Take 25% off sitewide.
Solo Stove: Take up to 45% off fire pits and more.
Sonos: Savings on in-stock refurbished speakers.
Snow Peak: Up to 40% off last chance sale.
Target: 3 days of savings during the Deal Days event. Expires 7/13
Therabody: Up to $300 off Theragun massage devices. Expires 7/13
Thermoworks: Save on select meat thermometers.
Tile: Up to 25% off Bluetooth trackers.
Traeger: Save $150 on some of the best pellet grills and smokers around.
Tushy: Save up to 35% on the interne's favorite bidet (and accessories). Expires 7/13
Urban Outfitters: Save up to 40% on furniture, bedding, decor and more.
Vuori: Big savings on a variety of athletic wear, swim trunks and more.
Walmart: Hundreds of savings and rollbacks.
Wayfair: Huge savings on all categories during the Warehouse Clearout.
Advertisement – Continue Reading Below
Rad Power Bikes RadRover 6 Plus Electric Fat Tire Bike
$1,999 $1,649 (18% OFF)
One of the best e-bikes around, this one is perfect for cruising around your favorite parks, beaches and more — but it can also be customized for off-road riding.
READ ABOUT THE BEST E-BIKES
Traeger Pro 575 Pellet Grill
$900 $750 (17% OFF)
Our pick for the best overall pellet grill you can buy, the Pro 575 is efficient, handsome, versatile and (most of all) convenient and easy to use.
READ ABOUT THE BEST PELLET GRILLS
$148 $89 (40% OFF)
Perhaps the most legendarily comfortable shirt jacket ever made, the Blanket Shirt is like a, well, blanket you can wear pretty much anywhere.
READ ABOUT THE BEST SHIRT JACKETS
Jaybird Vista2 Sport Earbuds
$150 $100 (33% OFF)
Our pick for the best fitness earbuds around, this is the lowest price we've ever seen on these outstanding audio devices.
READ ABOUT THE BEST FITNESS EARBUDS
$145 $116 (20% OFF)
"The Internet's Favorite Pan" is still selling like crazy and we'd still recommend buying one immediately if you're one of the few who haven't yet.
READ ABOUT THE BEST COOKWARE
$55 $39 (30% OFF)
Crocs are super ugly, but that's part of the point. They're also incredibly comfortable and these ones were designed to offer the same kind of grip you might expect from a pair of hikers, making them great for outdoor adventure.
READ ABOUT WHY YOU SHOULD BUY CROCS
Therabody Theragun PRO Percussive Massager
$599 $499 (17% OFF)
Our favorite upgrade pick and the top option from the industry standard-setting Therabody, the Theragun Pro is perhaps the most durable, reliable and smart percussive massager you can buy — and it doesn't go on sale all that often.
READ ABOUT THERAGUN VS. HYPERVOLT PERCUSSIVE MASSAGERS
$180 $153 (15% OFF)
Available in two sizes — one that fits 20 cans and another that fits a whopping 30 — this cooler will keep its contents ice-cold for days and is far easier to haul to and from adventures thanks to its backpack straps.
READ ABOUT THE BEST BACKPACK COOLERS
Dyson V8 Absolute Stick Vacuum
$500 $400 (20% OFF)
Engineered for homes with pets and hard-t0-reach places, the Dyson V8 Absolute captures dust, animal hair and allergens, and deep cleans carpets. Keeping clean during allergy season is a must.
READ OUR COMPLETE GUIDE TO DYSON VACUUMS
$1,770 $1,570 (11% OFF)
Saatva makes our pick for the best mattress you can buy online. It's a hybrid innerspring mattress with eco-friendly foam that utilizes a Euro pillow top, which, unlike a standard pillow top, is stitched underneath the top cover of the mattress for a more seamless look that won't shift around.
READ ABOUT THE BEST MATTRESSES ONLINE
KitchenAid Professional 5-Quart Stand Mixer
$450 $280 (38% OFF)
If you bake more than once a year, you should probably own a KitchenAid stand mixer. It's the industry standard and will get the job done right every single time.
READ ABOUT THE BEST SMALL KITCHEN APPLIANCES
Seiko Automatic 5 Sports Watch 42.5mm
$295 $201 (32% OFF)
While all Seiko watches are great additions to any collection, this one is even more special, as it was made exclusively for Macy's and is a limited edition. And it doesn't hurt that it looks outstanding.
READ ABOUT THE BEST SEIKO WATCHES
$280 $196 (30% OFF)
With an outer shell made from a single piece of Kevlar, a speed lace system and a grippy natural rubber outsole, these are some of the lightest, most capable tactical-inspired minimalist hiking boots around at any price.
READ ABOUT THE BEST HIKING BOOTS
Eddie Bauer Bygone Convertible Cooler Tote
$70 $53 (24% OFF)
Perfect for beach days, park picnics and backyard hangs alike, this cooler tote will haul up to 36 cans (plus ice) and keep everything inside cool right up until you need it.
READ ABOUT THE BEST COOLERS
Madewell Garment-Dyed Allday Crewneck Tee
$35 $20 (43% OFF)
Believe it or not, there is such a thing as a bad t-shirt. This is not one of them. Made of ringspun cotton jersey. its light, machine washable and looks great with just about any outfit.
READ ABOUT THE BEST BASIC T-SHIRTS
Solo Stove Bonfire Fire Pit
Solo Stove
$400 $220 (45% OFF)
This is a great deal on one of the best backyard fire pits you can buy. Thanks to its airflow technology, it produces way less smoke than the fires you're used to, keeping you from breathing in harmful air and smelling like an ashtray when you leave the fire.
READ MORE ABOUT SOLO STOVE
Sun Joe AJ801E Lawn Dethatcher
$150 $89 (41% OFF)
If you care about your lawn and want it to look great all year long, you'll need a dethatcher — and this one topped our list of the best ones you can buy.
READ ABOUT THE BEST LAWN DETHATCHERS
Nomad Base Station Apple Watch Edition
$150 $105 (30% OFF)
Capable of charging your Apple Watch, AirPods and iPhone all at the same time (and quickly), this Qi charging station is one of the best accessories any Apple user can own — and it looks great, too.
READ ABOUT THE BEST WIRELESS CHARGERS
Cuisinart 3-in-1 Pizza Oven Griddle Grill
$247 $197 (20% OFF)
You know what's better than pizza? Being able to make pizza in your home perfectly whenever you want. Not only will this device give you that power, but it also doubles as a grill and griddle.
READ ABOUT THE BEST PIZZA OVENS
Pax 3 Vaporizer Complete Kit
$250 $200 (20% OFF)
This is our pick for the best vape kit you can buy — it is the complete package. With the PAX 3 you get precise temperature adjustments and use concentrates or loose-leaf, it is up to you.
READ ABOUT THE BEST CANNABIS VAPES
$220 $132 (40% OFF)
One of our favorite weighted blankets, the Layla blanket comes in three different sizes — 15, 20 and 25 pounds — and can be machine washed. Think of it as a security blanket for adults.
READ ABOUT THE BEST WEIGHTED BLANKETS
Sonos Roam Portable Speaker (Refurbished)
$179 $139 (22% OFF)
Sonos is one of our favorite home audio brands, but the brand really broke the mold when it took its hi-fi expertise and pared it into a small, weatherproof travel speaker — AKA the Roam. And you can get a factory-refurbished one for far less than the MSRP, but it will still work just as great.
READ ABOUT THE BEST PORTABLE SPEAKERS
Taylor Stitch The Apres Short 6-inch
$88 $62 (30% OFF)
Crafted from textured, rugged hemp and equipped with a comfy, elastic, drawstring waistband, these are the perfect shorts to don after a long, tough day. But they also still have pockets for your EDC, should you wear them out and about.
READ ABOUT THE BEST SWEAT SHORTS
This content is created and maintained by a third party, and imported onto this page to help users provide their email addresses. You may be able to find more information about this and similar content at piano.io
Advertisement – Continue Reading Below